Sheneberger Character Center
*The Shene is a large, beautiful building nestled along the shore of East Lake Okoboji equipped with floor to ceiling windows to enjoy the view. The building includes two large, great room spaces that each includes a fireplace. Two cabins are located off the great room upstairs and one cabin off the great room downstairs. The building is wrapped in a balcony to further enjoy the great views.
3 cabins—each sleep 12 and have attached bathroom and shower room
2 great rooms w/ restroom attached.
Upstairs great room-carpeted w/ half kitchen and fireplace
Downstairs great room- carpeted floors, fireplace, seating
Tables and chairs provided if needed up to 100 people.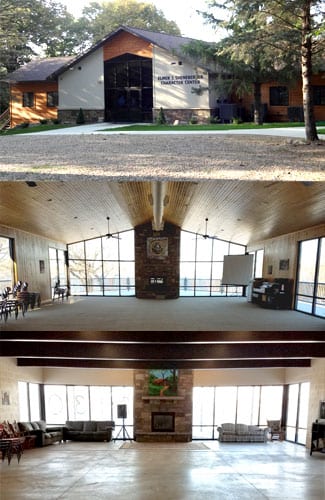 *The Leadership Lodge is a cozy lodge equipped with a large great room connecting two cabins.
The great room includes a fully furnished kitchen, furniture, and a fireplace.
A cabin is located off each side of the great room. Both cabins have a restroom within the cabin.
Cabin includes attached restroom and sleeps 18.
Great room with full kitchen, fireplace, sitting area, and restroom.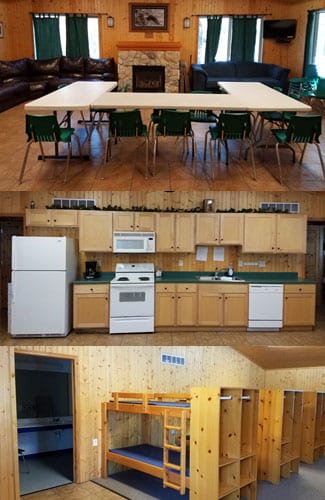 *Each cabin at Camp Foster holds its own unique character and charm.
We have a variety of cabins to choose from as some have restrooms included while others do not; some have a more "rustic" feel while others have a "modern" feel.
With the variety, we have a cabin to fit your needs!
Cabins each sleep 12
Option for Double cabin with connecting door to sleep 24